Does anyone know why When Calls the Heart Season 6 Episode 5 was titled, "Surprise"? 
I can't quite figure out what the surprise was, but there are many possibilities.
It could be referring to Allie, Nathan's niece, or it could be referring to the black gold found on Jesse's land or it could be about Bill's surprise offer or it could be surprising that Bouchard is, well, always full of surprises.
Let's talk about the couple of the moment, first.
Carson and Faith were still dancing around their relationship when the hour started, but we knew they couldn't keep their secret from the town for long.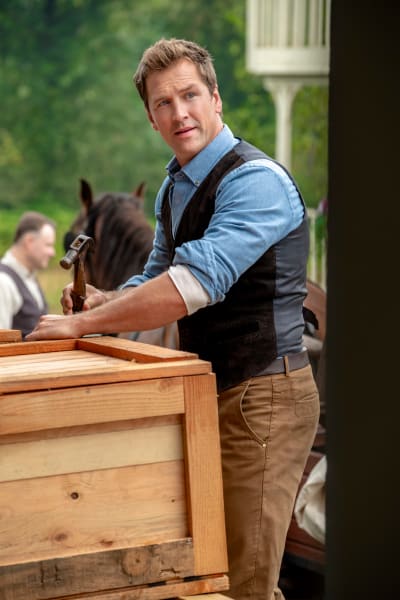 The two nosey bitties (whose names I can never manage to remember) always seem to be exactly where Hope Valley citizens are trying to keep secrets. 
They first nosily asked why Faith would be attending a trip with Carson when he was heading out to get a heart electrocardiograph (I think!).
When Calls the Heart Review: Heart of a Mountie
Why it's anybody's business but the doctor's and his nurse is anybodies idea, but those nosey bitties do manage to propel story forward.
Tongues really had to be wagging when the medical duo didn't return home the same night they left, but their trip got unduly derailed by a road closure.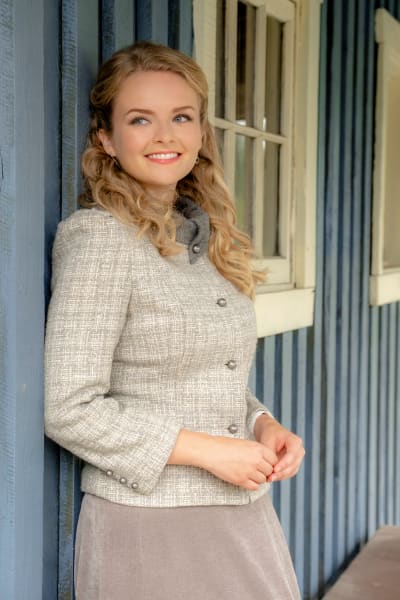 To that end, we learned a bit more about Faith and her past. 
What I found most interesting about her story was that she previously allowed herself to get attached to that fellow who didn't consider her career worthy of his soon-to-be wife.
Knowing the story of her mother dying as a result of nursing patients and catching typhoid fever, and Faith's adamant stand on her career to the point she chose not to talk to her father any longer once he called her a full for pursuing nursing, how did she catch that other dead fish?
Why would anyone who went to such great lengths to follow their dreams consider for a single moment a guy who would try to stifle them?
Maybe it was because of what she saw in Jack, a man who would have accepted her as is, and when her ideal got swept away, she took another man with the belief that you can't find your dream man twice.
You, Miss Carter, are a lot of things, but you are not a fool.

Carson
It's a good thing Faith managed to get out of that guy's grip so she could stick around in Hope Valley.
Carson and Faith are still a little shaky when it comes to declaring their feelings for each other, but the more the tongues wag at their growing closeness, the more confident they become.
Ultimately, Carson tossed down his medical bag to kiss Faith in the town square before they walked away arm in arm. That's not a bad way to stop the gossip!
With Jack gone, the friendship between Leland and Bill has been growing quite a bit.
Leland: Hey, Bill. You seem a little shaken, and I'm guessing it's more than the tremor this morning.
Bill: I was offered a judgeship.
Leland: [laughs out loud] Oh, that was funny. Oh. You're serious. How? Why?
Bill: It started by roughing up a judge.
Leland: That hardly seems like a qualification.
I've always wondered how close to reality WCTH is when it comes to historical accuracy. 
Get Hallmark Movies Now via Prime Video Channels for Stories with Heart, Captivating Movies & More!
Bill seems like the last person who would be asked to become a judge. I wonder what the qualifications were in the provinces at that time. Was his short stint as the Sheriff enough to get him on the short list?
If Bill does become a judge, does that mean Jack Wagner is considering limiting his time on When Calls the Heart, too? I don't want to see the older folks in town suffer because Abigail left.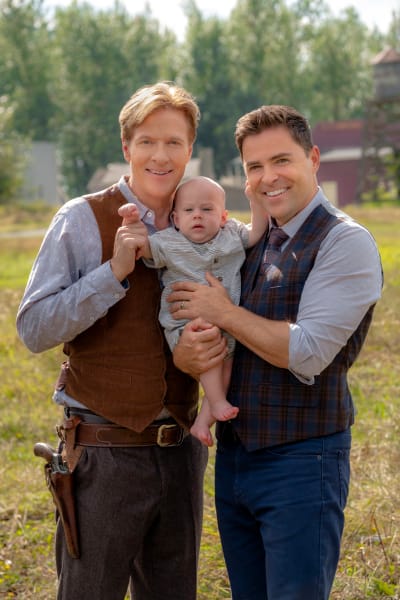 I really enjoyed the two of them caring for Baby Jack while Elizabeth enjoyed some downtime with Rosemary. Being a single mother in any day in age is difficult, but doing it at that time must have been doubly difficult.
The women in Hope Valley work whether they have an actual career or not, and there aren't a lot of people around to care for young children. Elizabeth got very lucky with Laura.
Knowing all the kids in town because they pass through the schoolhouse gives her the best connections!
Rosemary was genuinely trying to give Elizabeth a break from some of the more monotonous moments in her life. Without Jack and watching Baby Jack in her downtime meant she wasn't getting out of the house at all.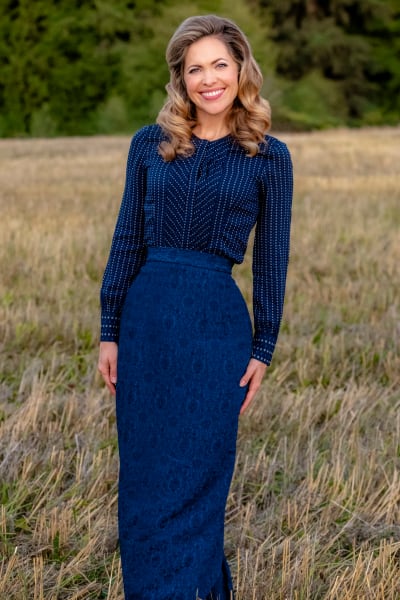 They needed that time to gossip and reminisce about their lives in Hope Valley. There has been so much change in the short time they've both been there, and they've seen a lot of friends come and go.
When they arrived, they were both green in small-town ways, but now they're the pillars of the community.
Honestly, when Rosemary first asked Elizabeth over for dinner, I thought she was going to try to play matchmaker. After all, there are suddenly two eligible bachelors in town.
How long will it be before Rosemary can't help herself?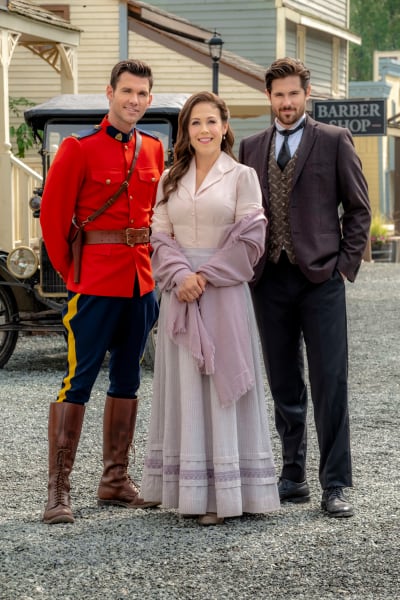 Their chat included how heroic Jack looked in his uniform, and the wistful way that she talked about it didn't make it seem like she'd be interested in another Mountie in her life.
Hallmark Announces Fate of When Calls the Heart
That point got driven even deeper when Leland weighed in Baby Jack's future.
Bill: He's starting to look more like Jack, isn't he?
Leland: Yeah, he really is.
Bill: You think he'll be a Mountie?
Leland: Not if Elizabeth has anything to do with it. Well, for what it's worth, I think you'd make a fine judge, pal.
Bill: Well, thanks, Lee. I appreciate that. And just so you know, I think you'll make a great dad someday.
I'd like to think there is a life outside of being a Mountie that will still get the hearts of the opposite sex pounding harder.
To that end, both Uncle Nathan and Bouchard wound up on Elizabeth's mind as she grappled with the best way to help Allie acclimate to school in Hope Valley.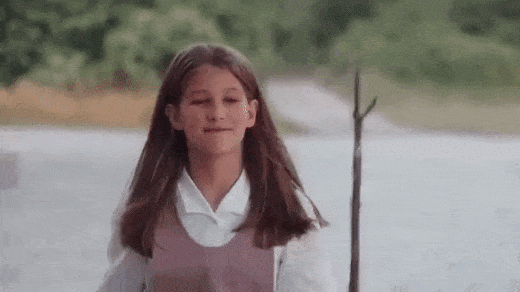 Allie's first idea was to skip it altogether. Her discussion with Nathan on the way to school should have given him an indication she wasn't ready.
Allie: Really, Uncle Nathan? On my first day here?
Nathan: You've heard the saying; there's no time like the present.
Allie: Or how about don't go to school today when you can wait till tomorrow!
Allie ditched school and learned a card trick from a very kind Bouchard to try to bribe her back to school and give her a way to win friends.
Of course, it didn't go as planned, as Allie was not only disruptive in class while Elizabeth was teaching, but she also started tricking her classmates to get money and other goods from them.
That's not exactly the best way to go about winning friends and influencing people.
Of course, if you've watched Hallmark for any period, you are familiar with Jadea Lily Miller who plays Allie. She's practically grown up before our eyes. And she always plays a willful character. She's good at it!
Elizabeth already has her hands full with class and Baby Jack, so I'm not expecting her to jump head-first into assisting Nathan parent Allie.
She was interested, though, when she learned he had raised Allie himself. The two will have a lot in common, and if she's not worried about Baby Jack being a bit headstrong, he might have a lot of tips for raising a child in unconventional circumstances.
Lori Loughlin Dropped by Hallmark in Wake of Scandal
Altogether, though, Nathan is still somewhat withdrawn when it comes to life in Hope Valley.
Sure, he's just arrived, but it seems more due to the nature of his job that he's a bit shy. He mentioned "the Mountie life," which would likely be difficult as a young, unmarried man caring for a ten-year-old girl.
It means he's always on the move and life is rarely given the time it deserves to flourish. But I fully expect Hope Valley to be semi-permanent.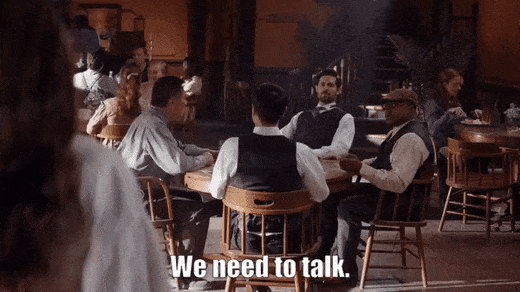 The conversation between Bouchard and Elizabeth was of equal interest.
When she confronted him about teaching children to gamble (Elizabeth, really?), he kindly explained why he showed her how to do a card trick and did not teach her to gamble. 
As soon as Bouchard  picked himself up from that chat, Bouchard revealed something while Nathan was almost cruel.
Nathan: What's your story, Bouchard? Why are you such an expert at cheating?
Bouchard: I'm not. In fact, I've only cheated once in my life.
Nathan: This is a great town, good people, fine opportunities.
Bouchard: What's your point?
Nathan: You don't seem like a good fit here.
Bouchard: [laughs] That's kind of the story of my life. But I'm not going anywhere.
Nathan knows nobody in town, and his attitude toward a man he doesn't know after Nathan himself couldn't manage to tame his niece was disappointing.
I've thought since he first arrived in town that Bouchard is not at all as he's been painted. He's hiding something, sure, but it's going to be counter to the thoughts everyone has garnered so far. I just know it.
Laughing off that he's always the one who doesn't fit in kind of seals that for me, and it makes him a suitable and worthy match for Elizabeth in my mind. After all, think back to her arrival.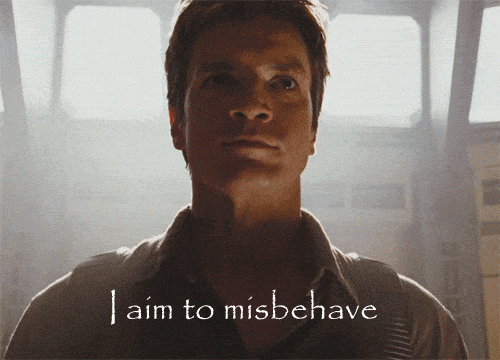 Everyone in town thought she'd never last in Hope Valley. They tried to get her fired and sent away!
But Elizabeth has a pure heart, she works hard, and she cares about Hope Valley. She was then rewarded with love and a beautiful life.
I see the same coming for Bouchard, and can't help but wonder if there are a lot more commonalities coming between Elizabeth and Bouchard than one would initially expect.
Lastly, I'm disappointed that Henry still can't find a great fit in Hope Valley. Will he wind up selling Bouchard down the river with his purchase of Jesse's land? Is drilling for oil right there in Hope Valley good for anyone? 
I guess we'll find out as the topics will be getting explored even further in the coming episodes.
What did you think about "Surprise"? Did anything surprise YOU?
Source link